GameBoy, GameBoy Color, GameBoy Advance, and Nintendo DS are registered trademarks of Nintendo. The author is in no way affiliated with Nintendo. The author is in no way affiliated with any pirate group out there. The author cannot and will not provide you with any GameBoy or GameBoy Advance games.
News | Manual | Downloads | Screenshots | Windows | MSDOS | Symbian | GBC
---
News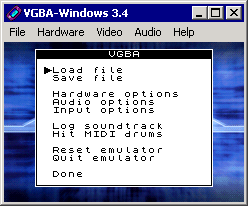 Latest Release Version of VGBA is 3.6!
On July 19 2011, I have published the initial version of VGBA-Android. Please, give it a try and report any encountered problems in the discussion group.
The complete list of features and the list of new features and fixes can be found in the documentation. Both VGBA-Windows and VGBA-MSDOS are now available for the total price of $19.99 (or lower if you use coupons).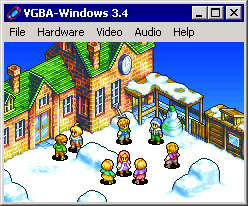 What is Virtual GameBoy Advance?
Virtual GameBoy Advance (VGBA) is a program that emulates Nintendo's GameBoy Advance on your computer. It runs GameBoy Advance games on PCs, PDAs, or just about any other sufficiently fast computer. It also helps debugging GameBoy Advance software without using a costly development system. I have previously written another emulator, VGB, that runs older GameBoy and GameBoy Color games. Because GameBoy Advance has completely different hardware, I had to write a new emulator for it, and VGBA runs only GameBoy Advance games. As far as I know, when I released VGBA in 2000, it was the first GameBoy Advance emulator in the world, soon to be joined by other emulators.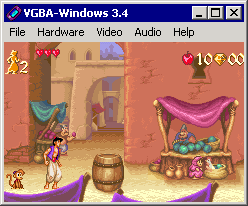 Licensing
Virtual GameBoy Advance is written in portable C language and can run on pretty much any sufficiently fast computing device, be it a computer, a videogame console, a PDA, an MP3 or DVD player, a set-top box, a cell phone, or even a digital camera. If your company considers using GameBoy Advance emulation in its products, you can license either the whole VGBA source code or the ARM7 CPU emulation from me. I am also available for consulting work in the software emulation, embedded programming, and other fields. See my resume and contact me if interested.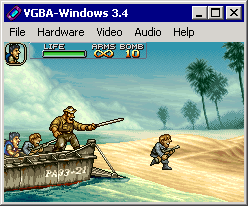 Using Your Games with VGBA
It is only legal to play games you actually own on VGBA. You will first need to read a game from its cartridge into a file. This can be done with an inexpensive gadget such as Flash Advance Linker,
Free Updates
Anybody who registers VGBA-Windows becomes entitled to receive free updates by email as long as I am developing the program. If you are already a registered user but have not yet received the latest version of VGBA-Windows, send me an email with your valid email and postal addresses for verification, and you will get one.
Downloads
Screenshots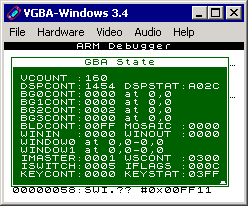 Built-in Debugger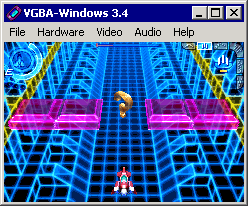 Iridion 2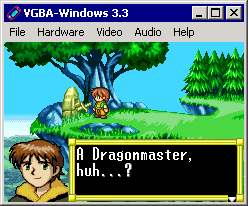 Lunar Legend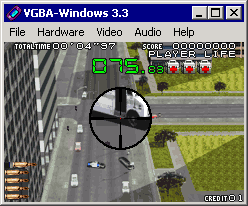 Silent Scope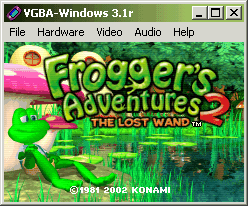 Frogger's Adventures 2
---
News | Manual | Downloads | Screenshots | Windows | MSDOS | Symbian | GBC
© Copyright by Marat Fayzullin